What's next for 17-year-old golf phenom Lexi Thompson after charging through junior and amateur competitions and becoming the youngest player at the time to qualify for the U.S. Women's Open?
Being immortalized in a Tiger Woods video game, of course.
"I didn't see it coming, but once my manager, Bobby [Kreusler], told me, I was so excited to get this experience," Thompson said. "I mean to be on a video game … there's nothing like that."
Thompson met her golf idol for the first time in August during a private reception for the competitors in the Notah Begay III Foundation Challenge in Verona, N.Y. The 12-player tournament was split into two groups of six American golfers and six Asian golfers for an East versus West challenge. Thompson and Cristie Kerr were the two LPGA competitors invited to compete on the West team.
"I posted a picture of me and him on my Facebook, and a lot of my friends were going crazy saying, 'That's so sick that you met him.'" Thompson said. "They're definitely a little jealous. But he's just a normal guy and a world-class player, obviously."
Much like Woods, the juxtaposition of the normal and abnormal seems to a dominant theme in Thompson's meteoric rise to golf fame.
She is the second-youngest player to win a LPGA tournament after 15-year-old Lydia Ko, who won the Canadian Women's Open this season. But Thompson still sits in rarified air of women's golf. She is just the second woman to wear a motion-capture suit for the "Tiger Woods PGA Tour" video game. Paula Creamer did it two years ago.
Thompson's rising popularity in the LPGA, her top 30 ranking and star appeal made her an ideal candidate for the mo-cap suit, which is designed with hundreds of light reflectors to record every move, said EA Sports marketing director Craig Evans.
"We had her on our radar for a long, long time," Evans said.
Capturing Thompson's trademark power drives and fiery personality is one step of many in popularizing the women's game for EA Sports.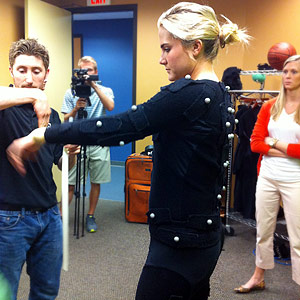 Courtesy of EA SportsGolfer Lexi Thompson gets set in her motion capture suit.
For Thompson, the EA experience was an opportunity for pure fun in her otherwise adult world of responsibilities that come along with being a professional athlete. That's why she didn't hesitate to get up at the crack of dawn to make the two-hour drive from West Palm Beach to Orlando for the two-hour session.
"I played Xbox with my brother, Curtis, a good amount," Thompson said of her earlier childhood. "Probably played an hour or two in between practice."
Curtis' memory of their video game-playing days are a bit hazier. The two were home-schooled from middle school to high school, in part to maximize their practice time in Florida's fickle rainy weather. They lived next to the 12th hole on the TPC Eagle Trace golf course.
Curtis and Lexi would get up early, finish schoolwork and then practice from 9:30 a.m. to noon. After a break for lunch, they would finish the afternoon with a few more hours on the course.
You'll have to forgive the Thompson siblings for not being video game aficionados. They were a little busy dominating the junior and amateur golf world. Their older brother, Nicholas, was building his career in the PGA as well….
More at Lexi Thompson shows she's got game – ESPN
More Reading