Earlier today we detailed here that Tiger made 10x more money this year than last.
He also wrote a little bit about passing Jack Nicklaus' record for tournament wins:
Jack and I talked to the media together at the end of the [AT&T National], and that was very cool. I have always had the utmost respect for Jack, and that was a fun experience.
I'm bemused by the fact that Tiger refers to the Golden Bear simply by his first name. You know he sees them as equals in his mind. Some might take offense, but as Jay Busbee pointed our here, "Jack" has embraced it.
Tiger then talked about his favorite shot of the year:
If I had to pick my best shot of the year, I would have to say it was my 50-foot downhill chip-in birdie on the par-3 16th at Muirfield Village Golf Club during the final round of the Memorial.
Well … uh … yeah.
He then turned the focus to 2013:
Looking ahead to next year, I'm just trying to win those big four tournaments, and obviously try to use other events to prepare for them and try to win them as well.
The pretense has been absent for quite a while, but it's still nice to hear a professional athlete detail exactly what his intentions are. This is basically LeBron saying "I don't even pay attention until April, everything I'm working on right now I'll use for six weeks of playoffs."
Tiger then talked about his current world No. 1 pal:
Whether [Rory and I] develop a rivalry remains to be seen. Let's just let it play out and see where it takes us. We'll look at the results the next five or 10 years and see if it becomes a rivalry or not. We'll have to win big events and play each other down the stretch. That hasn't happened yet. We've only played each other at Honda down the stretch. We need a lot more of those type of battles, but in bigger events.
This is true, Jack and Arnie went 1-2 in majors five different times (Nicklaus won three of them). The Internet might not make it if Tiger and Rory repeat that, but if this rivalry is going to have the legs we all want to give it, they're going to have to have at least two Sunday back nine battles over the next few years.
Tiger then turned his attention to the Ryder Cup:
Last week, Tom Watson was named the 2014 U.S. Ryder Cup captain. I'd like to congratulate Tom on his selection. I think he's a really good choice. He knows what it takes to win, and that's our ultimate goal. I hope I have the privilege of joining him on the 2014 United States team.
I honestly think Tiger is excited about Watson as the selection. They've had their well-documented kerfuffles but the one thing that Tiger values over all else is winning — and he knows Watson provides him with that opportunity. Woods finished up with a couple of light-hearted notes:
I'm excited about the holidays and so are my kids. The best present I ever received was space Legos….
More at Tiger Woods talks 2012, looks ahead to 2013 – CBSSports.com (blog)
Tiger Woods seeks major boost in 2013
Tiger Woods took a twisting path to three US PGA Tour titles in 2012, but despite ending a two-year victory drought he couldn't quench his thirst for more major titles.
"I know how it feels when you win a major championship, and it feels incredible," Woods said as he reflected on his year.
"It lasts with you, and that's something that I would like to have happen again."
Woods hasn't won one of golf's four major championships since his 2008 US Open triumph at Torrey Pines.
His pursuit of Jack Nicklaus's record of 18 majors remains stalled at 14, but Woods believes he has emerged from a tunnel of distractions — his disastrous marital crisis, serious injury and the re-engineering of his swing — and is ready to tackle golf's biggest challenges in 2013.
So, however, is current world number one Rory McIlroy.
"I still feel I have some of my best golf to play, and in order to do that, I had to be healthy, and this year is headed in the right direction," Woods said. "I'm very excited about next year.
"Rory is ranked number one. He deserves it. He's won tournaments all around the world. He's had high finishes on top of that, and that's how you do it …. He should be very proud of the season he's had, and I'm sure he's excited about what next year holds for him, as well."…
More at AFP: Tiger Woods seeks major boost in 2013 – AFP
Tiger Woods Versus Rory McIlroy: Who Will Be World No. 1 in 2013?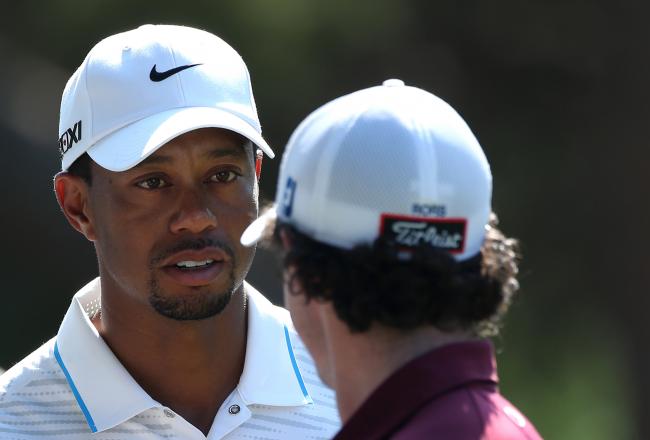 Warren Little/Getty Images
As the 2012 PGA Tour season comes to a close, a new rivalry between two of the best golfers on the planet is born.
There is no doubt that the highly anticipated Rory McIlroy and Tiger Woods rivalry will be talked about for many years to come. With Rory assuming the role of World No. 1, and Tiger lurking close behind him it seems like golf fans have something new to be excited about.
With McIlroy at the zenith of his career and Woods overcoming a year long slump, things ought to be interesting as 2013 rolls along. Tiger has three wins under his belt this year, a huge improvement from his lackluster performances in 2010 and 2011. Rory, on the other hand, has had another amazing year with another major championship and three more victories.
All the accolades do go to the young superstar this year, but Tiger still has plenty of momentum heading into 2013, which makes it quite difficult to determine who will come out on top next year.
If you take a look at the numbers, then the stats show that McIlroy is first in birdies per round, sixth in putting, fifth in driving distance, and 60th in greens in regulation. Woods on the other hand is fourth in birdies per round, 42nd in putting, 29th in greens in regulation, and 32nd in driving distance.
More at Tiger Woods Versus Rory McIlroy: Who Will Be World No. 1 in 2013? – Bleacher Report