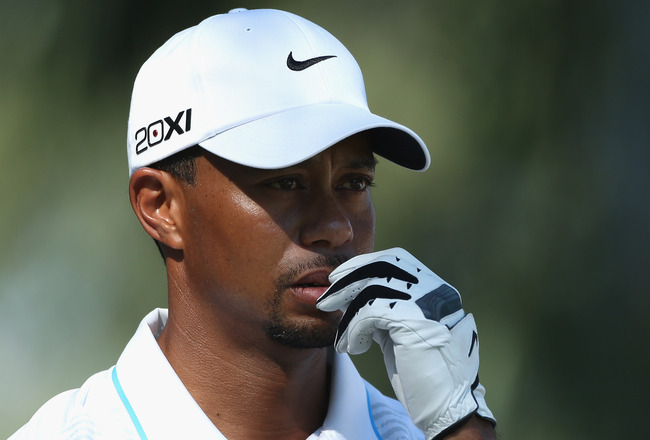 The 2012 PGA Tour season is nearly complete, and like most professions, it's important to grade the performance of the game's greats.
Let's take a look at Tiger Woods, who has made significant headway toward getting his play back up to his standards after undergoing his fourth swing change in a little over 15 years.
Using a standard letter system, grades will be given to each individual aspect of Tiger's game, and then an overall grade will be given.
Let's get started, shall we?
Driving
Grade: A
Tiger has always been a bomber off the tee, though it's worth noting that his average driving distance has been trending downward since his 31st birthday.
After recording a mammoth 316 yards per drive in 2005, Tiger's average has fallen in each of the next three years before dropping below the 300-mark in 2009. This year, Tiger averaged a modest 297 yards off the tee, still good for 32nd on Tour.
One particularly telling statistic about Tiger's loss of distance is his percentage of drives that travel 320 yards or more. In 2012, Tiger is hitting around one out of every seven of his tee shots longer than 320 yards which is decent, but not exemplary.
Now, all of this discussion of distance is poppycock if we don't mention driving accuracy, which could be called an Achilles' heel of Tiger, if he had such a thing. After toiling in the Tour's bottom half in the mid 2000s—Tiger hit 59 percent of his drives in the fairway between 2003 and 2007—he finished 55th this year, hitting nearly 64 percent of his tee shots in the short grass.
Fairway Woods/Long Irons
Grade: A+
Tiger has always been known as one of the PGA Tour's best long iron and fairway wood players, and 2012 wasn't any different.
This past year, Woods finished third on Tour when hitting an approach shot from 200 yards out or further, averaging a distance to the pin of 42'3″.
Putting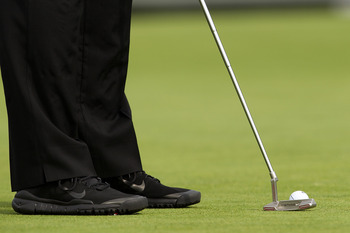 Allan Henry-US PRESSWIRE
Grade: C
There have been many accounts of Tiger's recent struggles with the putter, as many pundits believe that his mental game may have been affected by the golfer's certain "infidelities."
Interestingly, the statistics show that Woods is getting back on track, slowly but surely.
More at Tiger Woods: Report Card Grades for His 2012 Season
Two majors down, two to go.
Based on my advanced math skills, and factoring in assorted variables, algorithms and formulas that are simply too complicated to mention here, my research has determined that it's the official halfway point of the golf season. Or close to it. Therefore, it's time for some Mid-Season Awards and Report Cards.
Biggest Noise Increase: Those jets that constantly fly overhead at Doral will pale in comparison to the resort's new owner, Donald Trump. Yes, he'll be the best thing that's ever happened to the place, and we'll know that because Trump will remind us repeatedly. Hey, this otherwise dull World Golf Championship event just got twice as interesting and fun. You can name Doral's new owner. Bet you can't name Doral's new champion.
throw out the ceremonial first pitch, but they also got a free Rory bobblehead doll. "I think maybe it's better-looking than me," McIlroy quipped, "which is a good thing."
More at Tiger Woods, Webb Simpson, Bubba Watson, Rory McIlroy get PGA …
More Reading