Tiger Woods' 2013 Masters similar to ones Greg Norman used to have
AUGUSTA – Australia celebrated. Tiger Woods Nation fretted.
The 2013 Masters, in some mind a lock for Woods to claim as his 15th major championship, had slipped away and when a dreary Sunday had passed, the story that mattered was a feel-good one, of Adam Scott finally breaking through in a tournament where his inspiration, the ill-fated Greg Norman, had found heartbreak so many times.
Now it's Tiger who is feeling some of the Shark's old pain.
Woods has now played a golf course's worth of majors – 18 – since he last won one. And while his great play this year had sparked new optimism that he can catch the great Jack Nicklaus, this one will go down as a huge disappointment.
If one believes in karma, it's kicking Woods' butt right now. He was going along as planned for 32 holes when perfection quickly turned into calamity. A brilliant shot into No. 15, one that would have produced a sure birdie, hit the fickle flagstick of fate and retreated into Rae's Creek. Everyone knows the rest of the story – the drop, the phone call, the penalty, the reprieve, the controversy, the outrage, the defeat.
Compare that, however, to the charmed life his Nike ball used to lead in the pre-fire hydrant days when it always seemed to escape trouble to end up in the best of places. Recall Carnoustie in 2007, when Sergio Garcia's great shot into a par-3 ricocheted off the flagstick and off the green, and how the snake-bitten Spaniard lamented how that never happens to Woods, only him, that he was "playing against more than just the field."
…More at Tiger Woods' 2013 Masters similar to ones Greg Norman used to have – New York Daily News
Phil Mickelson's Poor 2013 Masters Performance Won't Be Repeated Next Year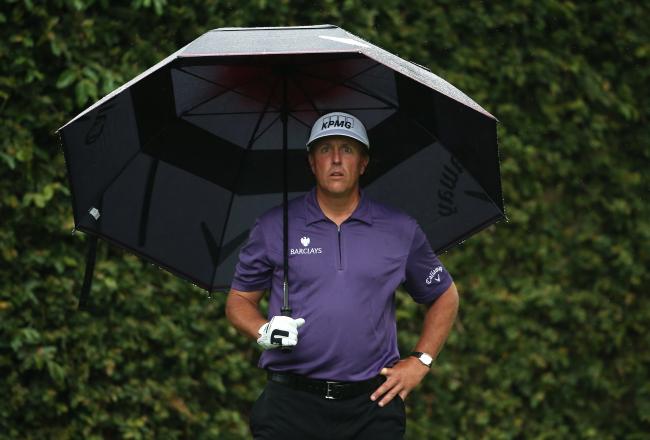 Andrew Redington/Getty Images
Phil Mickelson's 2013 Masters was an aberration—a horrible overall performance that won't happen again for a long, long time.
Lefty finished in a tie for 54th place—only four golfers finished lower after making the cut. It was his worst showing at Augusta since he missed the cut in 1997.
He carded a 77 on Friday and a 76 on Saturday—two of his worst rounds at Augusta in his career, according to ESPN's Justin Ray:
Phil Mickelson's 77 today ties his worst career round at Augusta. Only 6 rounds at Masters of 76/worse in career – 2 in last 2 days.

— Justin Ray (@JRayESPNGolf) April 13, 2013

This wasn't a typical performance from Mickelson at Augusta.
From 1998 to 2012, Mickelson competed in 16 Masters, winning three, placing in the top 10 an astonishing 12 times and placing in the top three seven times.
That's Mickelson's norm.
…More at Phil Mickelson's Poor 2013 Masters Performance Won't Be Repeated Next Year – Bleacher Report
2013 Masters: Adam Scott and Angel Cabrera create a masterpiece together
AUGUSTA, Ga. — In steady rain that at times turned into a downpour, in the dying light of a Sunday evening in April, Adam Scott and Angel Cabrera gave their sport a new standard for both grace and glorious golf under the greatest Masters pressure. Golf loves such moments that illustrate its greatest virtues — gracious respectful sportsmanship and the ability to endure stress while performing utterly alone, not just five hours at a time, but for days. Now we have a fresh example that can stand alongside any from the past.Scott won this Masters with a 12-foot birdie putt on the second playoff hole, the notoriously brutal 495-yard downhill dogleg No. 10, perhaps the most stunning inland hole in American golf. With that stroke, he slew the "Aussie curse" that bedeviled Greg Norman (three-time runner-up) and at least a dozen other fine Australian players since the days of David Graham.
This Masters, however, went beyond winners and losers to the nature of competition at its best. There are other examples, like Norman's own generosity in defeats here and elsewhere. But none better than the final hour of competition here in which both men made spectacular birdies at the 72nd hole — first Scott with a 22-f
…More at 2013 Masters: Adam Scott and Angel Cabrera create a masterpiece together – Washington Post