Fathers & Sons: Westwood makes PGA Tour season debut with father at his side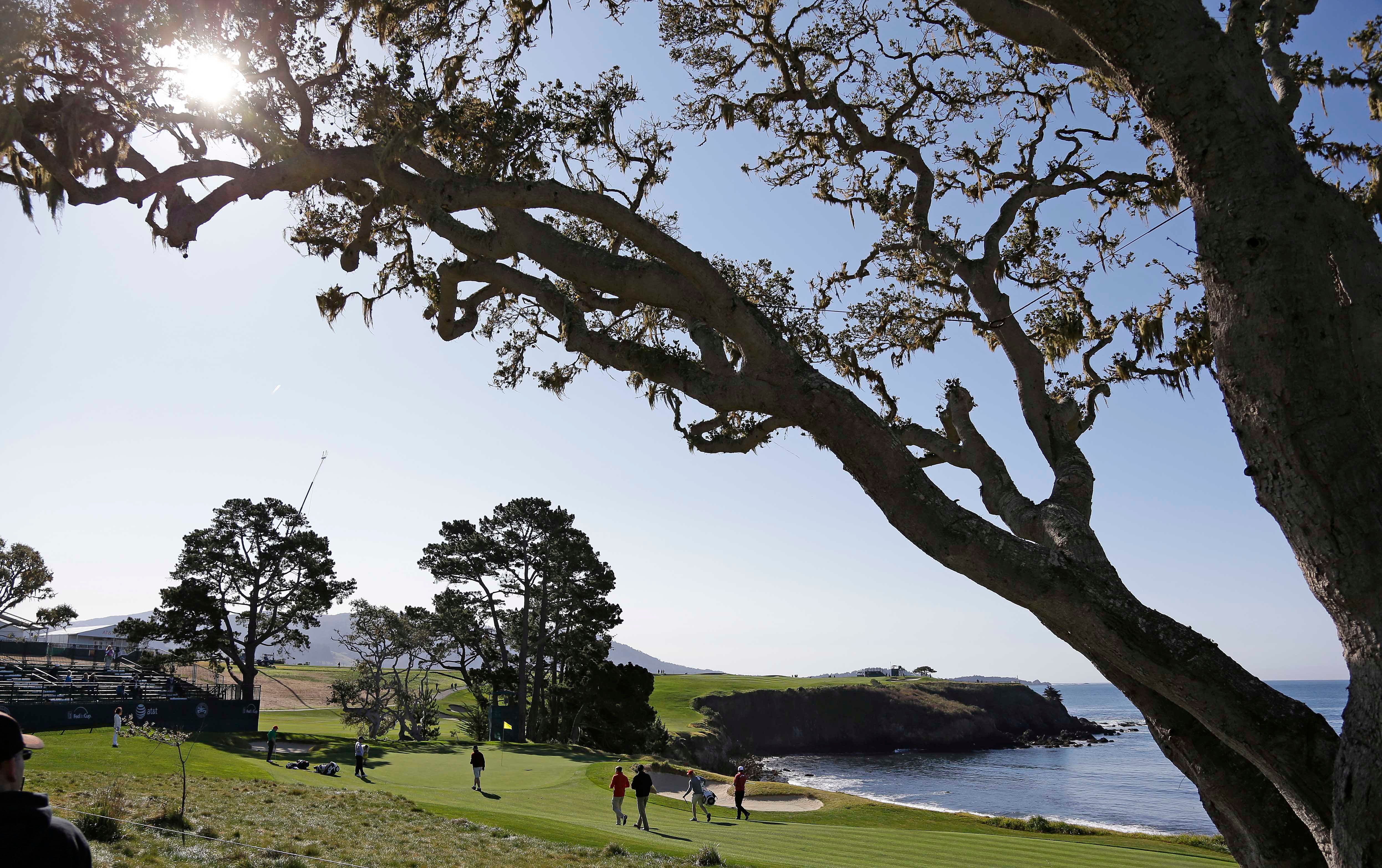 Padraig Harrington of Ireland, and his playing group make their way to the fifth green of the Pebble Beach Golf Links during a practice round of the AT&T Pebble Beach Pro-Am golf tournament Wednesday, Feb. 6, 2013 in Pebble Beach, Calif. (AP Photo/Eric Risberg) (The Associated Press)
PEBBLE BEACH, Calif. –  Lee Westwood still doesn't know why his father took him to the golf course.
He played just about every other sport in England when he was 12, such as football, cricket and rugby. He used to go fishing with his father, but the fish weren't biting, mainly because Westwood kept throwing stones into the water. So off they went to a golf course called Kilton Forest, neither of them having ever so much as swung a club.
Westwood was hooked.
"I turned pro at 19 and came on tour, and he was still a 12 handicap, so I can't understand the reasons for that," Westwood said. "He went to every lesson that I've had, drove me there and sat there and listened to it. I just got a bit better than him. Must be down to talent or something like that. I must have my mom's talent for golf."
Westwood was particularly sharp with his dry humor Wednesday at Pebble Beach, where it's easy to be in a good mood when the landscape is colored with a blue sky, green grass, white surf and a blazing sun.
He is making his first start on the PGA Tour, and this week is a reminder to the 39-year-old Westwood where his career all started.
More at Fathers & Sons: Westwood makes PGA Tour season debut with father at his side – Fox News
Commissioner Tim Finchem Has the PGA Tour Ready to Face the Future

Tim Finchem and Tiger Woods have helped the PGA Tour grow and be successful
Sam Greenwood/Getty Images
The PGA Tour schedule is full of tournaments and offers $6 million weekly in total prize money.
Commissioner Tim Finchem has his new wrap-around schedule in place and all of the tour cards for next year will either come from making the Top 125 in the FedEx Cup standings or by earning a spot via the Web.com Tour.
Since television found a handsome, swash-buckling hero on the golf links by the name of Arnold Palmer, television and golf have been a match made in heaven.
Golf appeals to a higher-income audience and advertisers want to reach a group that actually has the money to buy their products.
Thanks to television and Tiger Woods, the tour has come through the economic recession of the past few years relatively unscratched.
The six new events that now make up the Fall Series and signal the start of the 2014 season will offer $6 million purses and money earned by the players goes to FedEx Cup points for 2014.
Early round coverage of nearly every PGA Tour event is beamed around the world and available on the Golf Channel, ESPN or TNT. The big networks, CBS and NBC, provide weekend coverage for most events.
More at Commissioner Tim Finchem Has the PGA Tour Ready to Face the Future – Bleacher Report
Three Duke Alums Set to Begin LPGA Tour Season

Courtesy: Duke Photography 
Amanda Blumenherst, Jennie Lee and Brittany Lang
DURHAM, N.C. – Three former members of the Duke women's golf team are preparing for the start of the 2013 Ladies Professional Golf Association (LPGA) season at the ISPS Handa Women's Australian Open.  Brittany Lang, Amanda Blumenherst and Jennie Lee will tee off at the Royal Canberra Golf Club in Yarralumla, Australia on Feb. 14-17.
The tournament will mark the season opener for the LPGA Tour for the second consecutive year and the field will play for a purse of $1.2 million. Royal Canberra Golf Club is a par-73 layout, stretching to a length of 6,679 yards.  Jessica Korda will defend her title that she won last year at Royal Melbourn Golf Club.
Lang, the 2005 ACC Player of the Year and two-time All-America, will begin her eighth season on the LPGA Tour. She earned her first win on the pro circuit last summer, capturing the Manulife Financial LPGA Classic in June. For her career, Lang has finished in the top-10 on 36 occasions. A native of McKinney, Texas, Lang finished in the top-10 in a number of categories last year, including making a total of $525,263 to rank 24th on the money list. She recorded five eagles last year, to rank fifth on the tour.
Entering her third season on the LPGA Tour, Blumenherst, a 2009 alum, boasts six career top-10 finishes, including a fifth place finish in the 2012 HSBC LPGA Brasil Cup and in the 2012 Honda LPGA Thailand. Blumenherst finished in the top-50 last season in sand saves, at a 45-percent clip. Last year at the ISPS Handa Women's Australian Open, Blumenherst finished the event t-61st and fired an even-par 73 in the third round of play.  A native of Scottsdale, Ariz., Blumenherst was a three-time National Player of the Year for the Blue Devils.
Lee, a 2009 Duke graduate with a degree in sociology, will play her second season on the LPGA Tour. Last year, Lee recorded her first top-five finish on the tour with a t-5th placement at the Jamie Farr Toledo Classic. Lee finished the 2012 season in the top-60 in putting average at 30.08 putts per round. Lee finished 2012 72nd on the money list, earning $117,302.  A product of Henderson, Nev., Lee was a two-time All-America and four-time All-ACC selection at Duke.
More at Three Duke Alums Set to Begin LPGA Tour Season – GoDuke.com