Tracking Tiger: Round 2 of the PGA Championship
Tiger Woods will have a lot of work to do to get himself in contention at the 95th PGA Championship at Oak Hill Country Club.
He begins the day eight shots in arrears: First-round co-leader Adam Scott shot a second-round 68 to get to 7 under par. That gave him the clubhouse lead.
LEADERBOARD: PGA Championship
Woods shot a first-round 1-over 71, thanks to a double bogey on his closing hole Thursday. He is playing with Keegan Bradley and Davis Love III.
We'll track his progress throughout the day.
No. 7, 461 yards, par 4: Tiger's tee shot with a fairway wood cuts and cuts but just not quite enough, and he ends up just inches into the intermediate cut of rough. Woods, from the rough and 201 yards out, couldn't get it all the way to the green, and he is now short-sided and in another batch of thick rough, and there is a bunker between him and the green. Woods hits a very professional shot out of that thick rough … to within about 2 feet from par. Bradley makes birdie to get back to -2, and he is five back. Woods makes par … a good escape. he is even par, seven back.
No. 6, 178 yards, par 3: Woods smashes his 7-iron to about 6 feet below the hole … it was almost the same shot he had on the previous hole with a very similar result. Bradley is on the green, but his birdie putt will be 20-feet plus. Bradley will make par, and Woods … drano. Back-to-back birdies, and he is -1 today, even par for the tournament.
The sun is out … and should be on the scene for the rest of the weekend … drying things out.
…More at Tracking Tiger: Round 2 of the PGA Championship – USA TODAY
ROCHESTER, N.Y. — At every major I'll be giving out grades to the top five guys in the Official World Golf Rankings and a few miscellaneous players as well. Then you get to write comments at the bottom telling me how wrong I am and saying mean things. Of course, I must admit that after the Open Championship, I had to eat a buffet of crow with my Phil Mickelson grade on Saturday night. "Upward and onward," I always say (not really, but it looks good when I write it).
Tiger Woods   World Ranking: No. 1 | Score: 71

Played the front nine bogey-free, but, just like what I told people after last week, missing greens at Firestone isn't the same as missing greens at Oak Hill. Tiger hit only 50 percent of the greens on Day 1. His putter and short game kept him from complete disaster, but he will not be able to count on that all week, especially not if he wants to win. (9/14 FIR's, 9/18 GIR's, 27 putts)

Phil Mickelson   World Ranking: No. 2 | Score: 71

The man loves the roller-coaster ride. Figured after the double bogey at the fourth he'd be packing the car early, but it's just the kind of drama Phil thrives on. Miss fairways, try miracle shots, sometimes pull them off — other times analysts like myself get to second-guess. Four birdies and two doubles … please keep all hands and feet inside the vehicle. (8/14 FIR's, 10/18GIR's, 23 putts)

Rory McIlroy   World Ranking: No. 3 | Score: 69

Another great start, followed by some bad swings and big sighs, left us again wondering if the dominating Rory we once saw will ever be back again. A 1-under 69 isn't a bad score, but again, we are all waiting for the guy who rarely missed to stop missing. I wasn't like he played badly, but he also didn't play better than average. (9/14 FIR's, 12/18 GIR's, 28 putts)

Justin Rose   World Ranking: No. 4 | Score: 68

Why would I give him that grade when he missed so many fairways and greens? That's exactly why. Because the ability to turn what should have been an over-par round into an under-par round is what makes these guys better than all of us. I do not believe he can keep that up, but he also knows he can't count on it. That's also why I do grades daily! (6/14 FIR's, 10/18 GIR's, 22 putts)

Adam Scott   World Ranking: No. 5 | Score: 65

"What could have been:" exactly the same thing we were saying Sunday at Muirfield. Scott played flawlessly, but then the weather delay claimed all the momentum the Masters champ had. But the up-and-down to save par at the 18th is something champions do when they have to. Can't wait to see what he does if he can get an uninterrupted round. (7/14 FIR's, 12/18 GIR's, 22 putts)

Jim Furyk   World Ranking: No. 27 | Score: 65

Except for the bogey on the 9th hole, where he missed both the fairway and green, he played a very nice round of golf. Five-under par, only hitting eight fairways, he was able to hit 15 greens in regulation while taking 29 putts. That shows you why he's the ultimate grinder on the PGA Tour. (8/14 FIR's, 15/18 GIR's, 29 putts)

Miguel Angel Jimenez   World Ranking: No. 57 | Score: 68

The world's most interesting golfer had a front nine scorecard that would have made Jackson Pollock proud  — whole lot of color —  with six birdies, a bogey and a double. His back nine was a bit more boring — not in a good way — as he made a double on the 17th hole. The Mechanic ran his golf car in the red too long and blew the engine at the finish line. (9/14 FIR's, 14/18 GIR's, 28 putts)

Angel Cabrera   World Ranking: No. 43 | Score: 80

"El Pato" flew onto a skeet range and was shot down like a clay pigeon — or maybe Oak Hill just isn't this duck's kind of lake. One birdie against eight bogeys and a triple means we won't be seeing any magical weekend from the Argentinian, just a bunch of feathers in the fairway to wonder what animal feasted on duck Thursday. (7/14 FIR's, 6/18 GIR's, 32 putts)
…More at Round 1 PGA Championship grades – ESPN
Rory McIlroy improves with weather but US PGA title hopes fade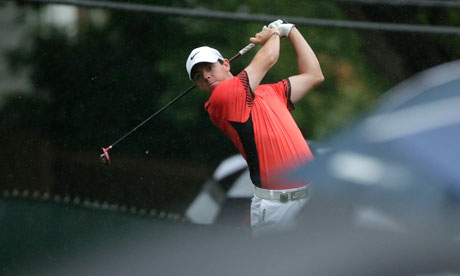 Rory McIlroy watches his tee shot on the 2nd hole during the second round of the US PGA Championship. Photograph: Charlie Riedel/AP
Rory McIlroy and bad-weather golf are becoming a predictable mix. The Northern Irishman was in serious danger of missing the US PGA Championship cut, which would have been a second premature major departure in succession, as the heavens opened above Oak Hill.
McIlroy has never made any secret of his distaste for playing in poor conditions. He perfectly illustrated as much yet again here on Friday, slipping to a front nine of 39 shots which had him flirting ominously with the cut line.
The let-up in rain triggered an improvement in fortunes. McIlroy, who sat three over on aggregate at that stage, bogeyed again at the 1st – his 10th – but rallied to birdie four holes thereafter in a back nine of 32. He finished round two on an aggregate of level par and, at least, secure for the closing 36 holes.
"Obviously we had very tricky conditions for the first 11, 12 holes," McIlroy said. "And it was hard, the golf course was playing very long. I started missing a few fairways and it is very difficult to play this course from rough. As long as you keep the ball on the fairway, it is very playable.
…More at Rory McIlroy improves with weather but US PGA title hopes fade – The Guardian