Rory McIlroy improves fitness
Caroline Wozniacki says her boyfriend, top-ranked golfer Rory McIlroy, has improved his fitness level so much that he likes working out even more than she does.
Wozniacki's dedication to the gym inspired McIlroy, and now he's taken it to another level, which sometimes annoys the former top-ranked tennis player.
"Even in my offseason, I'm like, 'Can you just rest for a second?' I don't want to see the gym. I don't want to hear about the gym. I don't want to go run. I just want to relax." Caroline Wozniacki on boyfriend and professional golfer Rory McIlroy
"Even in my offseason, I'm like, 'Can you just rest for a second?' I don't want to see the gym. I don't want to hear about the gym. I don't want to go run. I just want to relax," she said.
"He's like, 'No, but let's just go to the gym.' But it's good fun. It's great that we can motivate each other. It's great that we can do so many things together."
McIlroy, whose game has suffered lately, doesn't like talking about their relationship, although he recently addressed rumors of a split, saying, "Everything on that front is great."
Wozniacki provided a glimpse into their private life, saying she accompanies McIlroy to the practice range, where she has her own pile of balls to hit.
…More at Rory McIlroy Turned The Corner At Doral – ESPN
Rory McIlroy won't quit again and has no problems with girlfriend Wozniacki
Northern Irishman says poor play nothing to do with new clubs or problems with girlfriend Wozniacki
Rory McIlroy of Northern Ireland in action during practice round ahead of the WGC – Cadilac Championship at the Doral Golf Resort & Spa in Miami, Florida.
Doral: Rory McIlroy offered another apology, a straightforward explanation and a pledge on Wednesday that he will never again quit in the middle of a round.
McIlroy faced the media for the first time since he abruptly walked off the golf course in the second round of the Honda Classic, telling reporters that his head was not in the right place and then issuing a statement that his sore wisdom tooth made it difficult to concentrate.
Turns out the wisdom tooth wasn't the whole truth, and the world's No. 1 player said, "It will never happen again."
"I think it was a buildup of everything," McIlroy said at the Cadillac Championship. "I've been putting a lot of pressure on myself to perform, and I've been working so hard and not really getting much out of it. That's just been the frustrating thing, and that's what happened.
"I just sort of let it all get to me."
McIlroy attributed his frustration to wanting to improve on his breakthrough season, when he won his second major at the PGA Championship, five tournaments around the world, money titles on the two biggest tours and established himself as the best player in golf.
…More at Rory McIlroy won't quit again and has no problems with girlfriend Wozniacki – gulfnews.com
Rory McIlroy, Tiger Will Stage Golf's Signature Rivalry in Decades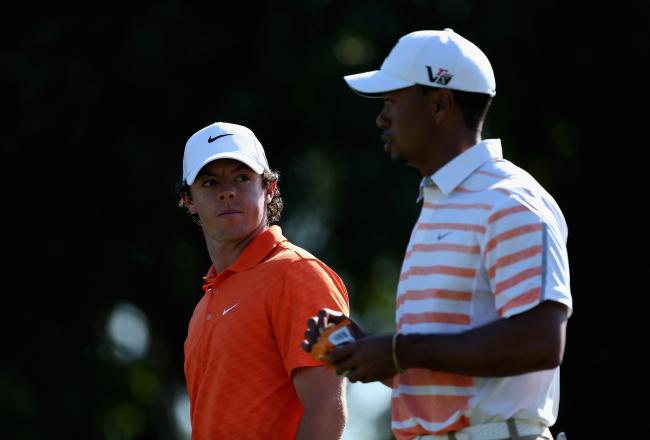 Rory v. Tiger could dominate the PGA Tour for several years to come.
Warren Little/Getty Images
One is 23 with a career full of potential waiting in front of him, the other is 37 and on a quest to recapture the greatness that many doubters think is behind him for good.
Individually, Rory McIlroy and Tiger Woods are the two best players in the world right now. Together they possess the potential to create a rivalry that the sport hasn't seen in decades, and one that will bring out the best of two multiple major winners. The two are now on opposite ends of their careers but with plenty of greatness inside them.
In winning the Cadillac Championship at Doral this past weekend, Woods wasn't just great, he was filthy great, besting the finest field on Tour this year by two strokes, though it really wasn't that close. Displaying a confidence not seen since he was winning majors at a record clip, Woods put on a 27-birdie performance(www.pgatour.com) that saw him steady off the tee, dialed in with the irons and in a different zone on the greens from anyone else in the field.
The victory was Tiger's second in just five starts and provided the most significant evidence that the World No. 2 has regained his dominant form and is prepared for a significant year.
For his part, Rory's Doral performance wasn't nearly as stellar as he continues to work into his Nike weapons and overcome confidence issues. That said, anyone that does not expect the Irishman to reverse recent struggles and return to top form with the new equipment is kidding themselves; it's not if, it's when.
In fact, McIlroy showed signs of improvement over the weekend, posting a final round 7-under 65 that was just shy of the round of the day in challenging conditions at the Blue Monster. Rory already owns two major championships so he understands how to play on the big stage. He'll have his game ready come The Masters in early April.
…More at Rory McIlroy, Tiger Will Stage Golf's Signature Rivalry in Decades – Bleacher Report