Tiger puts finger on Rory's task

Tiger Woods tried to motivate Rory McIlroy with an edgy text message.
Rory McIlroy is world No. 2 and is not bothered at the least by the demotion.
For most of the last year, McIlroy stood on the top of the golfing world and, for a while, put the name Tiger Woods in the rearview mirror. But that all ended Monday when his friend Woods won the Arnold Palmer Invitational for the eighth time and his third PGA Tour event in 2013.
The win, Woods' 77th, not only has pushed McIlroy off a lofty perch as No. 1 in the Official World Golf Ranking, but now the Ulsterman believes he has been relegated to the background with a cadre of others on the PGA Tour.
McIlroy texted his friend Tuesday morning to congratulate Woods on his win. Woods response was chiding, but also pointed, as a friend will do.
"Just congratulated him and stuff as well, and he said everything was good there," McIlroy said his back-and-forth with Woods. "Told me to get my finger out of my (rear end) and win this week."
McIlroy is playing this week at the Shell Houston Open in his final preparation for the Masters. Although his coach, Michael Bannon, is with him this week (as he was at Honda and Doral), the purpose is more for fine-tuning than an overhaul.
…More at Tiger puts finger on Rory's task – FOXSports.com
PGA Tour Power Rankings: Stricker's incredible run; Tiger is No. 1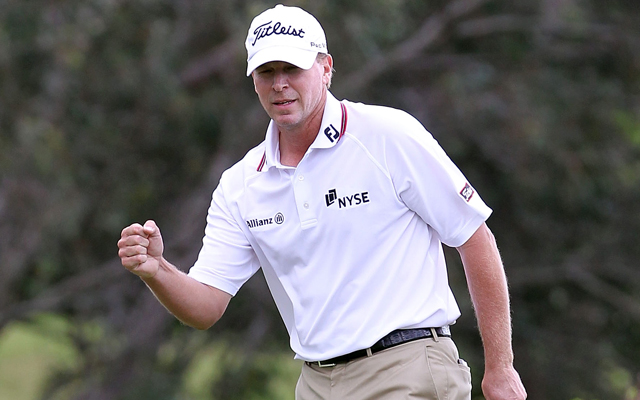 Steve Stricker helped Tiger Woods fix his putting game and is playing well on the PGA Tour. (Getty Images)
Most people don't make $1.8 million in their first three months of retirement.
Most people are not Steve Stricker though.
Stricker has played a grand total of three tournaments this year — one in each month. He is 10 weeks into his semi-retirement and currently sits at fourth on the PGA Tour money list.
Nice part-time work if you can find it.
He is also currently petitioning for another gig as Tiger Woods' putting coach. Stricker joked at the WGC-Cadillac Championship that if Woods would actually hire him, he wouldn't play at all:
"I told [Tiger] if you put me on your payroll, I could play a little bit less."
The real zinger is how far Stricker has come in the last few years. He completely lost his PGA Tour status in 2005 but has rebounded resoundingly since then. Consider: in 2005 on mostly sponsor and tournament exemptions, he missed more cuts (11) than he made (10).
  …More at PGA Tour Power Rankings: Stricker's incredible run; Tiger is No. 1 – CBSSports.com
Nike's new slogan featuring Tiger Woods ad raises eyebrows
Following Tiger Woods' return to the top of the world golf rankings, Nike released a new advertisement featuring the golfer and the tagline, "Winning takes care of everything."
The ad was met with mixed reviews when Nike released the image on Twitter.
RT @usatodaynews: Is Nike's new ad with Tiger too edgy? http://t.co/Keq4arlyo3

— MHSWarner (Danielle Warner) (@MHSWarner) Wed Mar 27 2013
Woods' personal life has received tremendous scrutiny since his extramarital affairs came to light in 2009, and the phrasing of Nike's slogan was considered tone-deaf by many dissenting opinions.
However, the slogan is a direct quote from Woods who replied with the line during the Tour Championship last September when asked about whether he was focused on the rankings.
…More at Nike's new slogan featuring Tiger Woods ad raises eyebrows – USA TODAY